Since opening in the UK in the '80's Delta Force Paintball have been the company of choice for a wide range of celebrity entertainment, including sporting teams, actors, musicians, politicians and even  supermodels (it's a tough life)!
Even our game zones have been celebrities in their own right and have been used as the backdrop for various TV shows and movies over the years. With the best equipment available and an abundance of movie-set props scattered throughout our centres, we are the leading centre of choice when it comes to paintballing.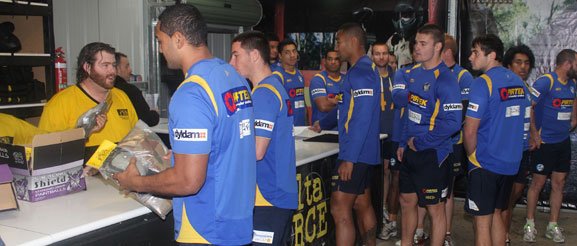 From the Parramatta Eels (pictured above) to the NSW Speedblitz Blues, to iconic worldwide sporting teams such as Chelsea FC, Manchester United and McLaren-Mercedes F1 Racing Team visiting our UK centres, or even the world's fastest man playing at our Dingley, Melbourne location, it's safe to say that you'll have an experience to remember on a day out at Delta Force.
Whether you're a celebrity, an average Joe or a weekend warrior, come and experience the best paintball fields Sydney has to offer.
Come and visit Delta Force Paintball Sydney in Appin where we treat all our guests as celebrities.