We are proud of our 100% safety record.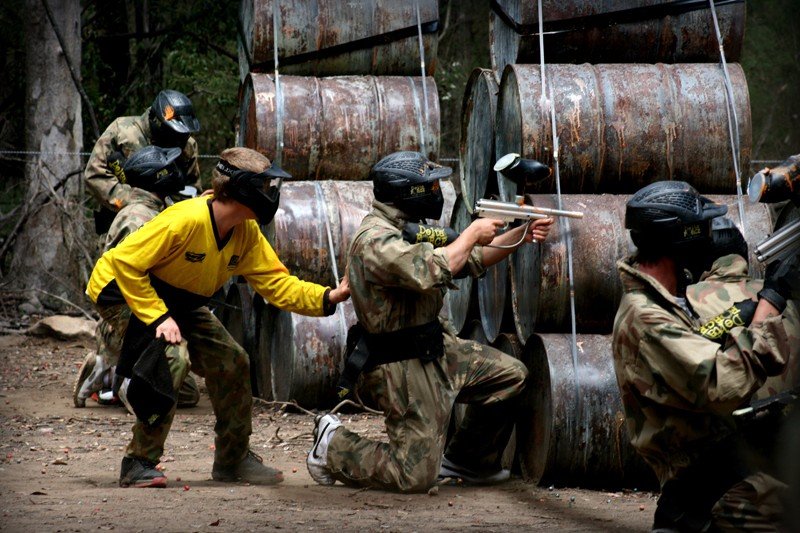 Operating with the best equipment available helps to ensure that our customers paintball experiences with us are the safest and most comfortable in the industry.
We have taken every step possible to avoid any mishap and to look after you and your guests because the safety for all players is paramount. In light of this mission, Delta Force Paintball has the following precautions in place at every paintball centre:
Goggle checking for every player before they enter the paintball game zones.
High mesh safety netting completely encloses our base camp (safe zones).
All paintball guns are prohibited from entering the base camp area.
The lifting of goggles is totally prohibited in the game zones. Should a player lift or even remove their goggles in a game zone then that player will be immediately excluded from the game zone. The player will not be permitted to play the rest of the session as we will not risk the safety of any player or players to risk their own safety.
Our experienced paintball marshalling personnel undergo ongoing training.
Our pre-game safety briefs conform to the Health & Safety rules and regulations.
Any 'head shots' at all our Delta Force Paintball centres do not count in order to discourage players from shooting at another player's heads.
To ensure that you and your group are well looked after and that you have a fun and enjoyable sesion, Delta Force Paintball vehemently abides by our safety standards. We are a 5-star paintball company that applies this high standard to all areas of our business.
When players arrive, they will all receive full head protection goggles, as well as full length camouflage overalls and have the option for free body armour. On the battlefield our equipment protects you from injuries and gives you the added confidence to launch your assault on the pyramid or Black Hawk and chase victory for your team.
For your complete safety all of our practices adhere to detailed health and safety risk assessments. Copies of these risk assessments are available on request.
Our Delta Force managers, assistant managers and senior marshals hold current first aid qualifications and similar qualifications are also held by many other senior staff who have an ex-services backgrounds. This helps to ensure the complete safety of all players.