If you're looking for a venue to host your next paintball party then you've come to the right place. Every weekend Delta Force Appin plays host to a range of parties, be it a hen's party, corporate event or just a day out for you and the girls.
On arrival you'll be treated to the most impressive paintballing equipment in the industry. You'll receive a full-length camouflage body suit with protective neck padding, a full head helmet and a battle pack capable of holding an additional 400 paintballs. You'll also be issued with our custom-designed body armour, giving you added protection to the upper torso.
When you are all dressed up in your stylish camo overalls and have your helmets secured, your team will proceed through to the gun zone and collect your semi-automatic paintball machine gun. These guns are reliable and lightweight to provide you with great manoeuvrability on the paintball field.
If any of your friends have previously been too shy to play paintball, then now is the time to come and play. This impressive equipment is issued to all players free of charge and ensures that you and your team can go onto the paintball field in confidence!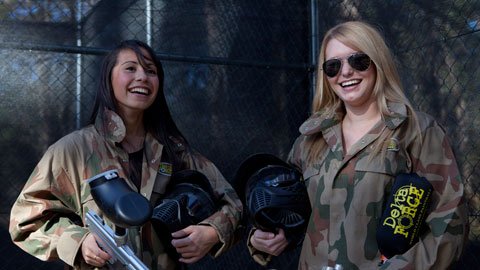 Our highly trained and friendly marshals will take care of you and the day of your event. If you have any questions, or you just want a competitive edge in the upcoming game, feel free to ask them as they love what they do and they know the best tactics for all of the fields.
The paintball fields at Appin are some of the best in Australia, offering the combination of natural and man-made cover. The thick Australian bush makes for an exciting day of paintballing but Delta Force's impressive movie-set props turn an exciting day into the ultimate paintball adventure!
On your day out at Appin you will encounter game zones such as Tropic Thunder, Tomb Raider and London After the Apocalypse, which is the local's favourite.
If you are coming for a hen's party then you can be rest assured that it will truly be a day to remember. Delta Force Appin has safely entertained hundreds of hen groups and certain games can be tailored to single out the bride-to-be and even her bridesmaids. Will your girls protect you or will they let the opposition light you up like a Christmas tree?
Delta Force Appin is less than an hour from the CBD, meaning we are conveniently located close enough to the city yet far enough away so you can enjoy outdoor paintball action at its very best.
Call the booking office today on 1300 785 766 and start prepping the entourage for a fun and exciting day of paintball action!