Sydney's Delta Force Paintball centre in Appin now has a reason for the more serious paintballers out there to get excited. The release of a new Tactical Pack upgrade offer breathes a whole new life into the game, and will send their mates diving for cover under a hail of paintballs.
With a 30 paintball per second capable firing rate, the new pack's feature item is the brand DYE Proto Reflex Rail, a lightweight, rapid fire gun with breakthrough technology.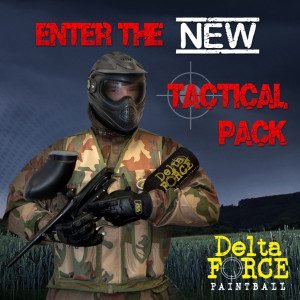 Within the barrel, an electronic eye ensures maximum fire-power whilst guarding against the breaking of paintballs and jamming that other equipment suffers. The DYE Proto has an ergonomic styling that is as cool to hold as it is to look at. The upgrade gun is already set to become a favourite for those wishing to rent a marker gun with a more radical look, feel and performance than the average rental offerings.
The Tactical Pack upgrade also includes the new quick re-load tactical vest with the capacity for 800 extra paintballs stored in quick re-load pockets spaced across the front and back of the vest and adjustable straps on the shoulders and sides to aid in comfort. The ability to quickly access the paintball pods makes this is a vest that gives players an advantage in the field of battle.
Vertically accessed rear ammo pockets add ease and speed in those decisive combat moments. Including the 200 balls in the gun hopper, a player with this upgrade, and fully locked and loaded will be armed with a total of 1000 paintballs, and the ability to mount a full frontal assault or a fighting withdrawal with confidence.
To book your next Delta Force Paintball adventure, contact us today on 1300 785 766.