Whenever you visit a Delta Force centre you can rest assured that you will be entertained on world-class paintball game zones and be issued with the best equipment in the industry.Delta Force Paintball is the world's largest operator of paintball games and we have built our reputation on offering the ultimate paintball adventure. We are now the industry leader in Australia, forging the way for the paintball industry and taking it to a whole new level.
Part of our success has been down to offering the customer exactly what they want.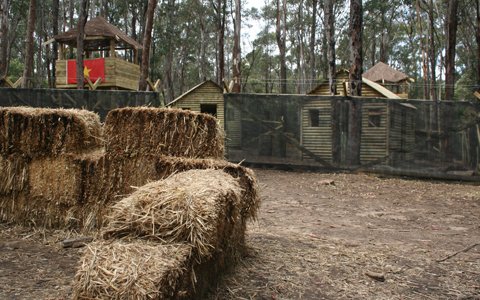 Our movie-set game zones will see you live out your wildest dreams as you and your fellow comrades will attempt to defeat the enemy. Whether they have been inspired by movies or historical events, our game zones will leave you breathless as you attempt to duck and weave the incoming paintballs.
Attempt to capture the ancient idol from the giant pyramid, defeat the terrorists who are holding hostages on the London double-decker bus, and regain control of the prison from the dangerous inmates. You will experience all this plus more on your day out at Appin!
To compliment our outstanding game zones you also need to have the best equipment. That's why every player will be issued with a 0.68 calibre Inferno Paintball machine gun.
The Inferno is a rapid, well-finished semi-automatic gun that allows all players to play with a fast-firing paintball marker that is lightweight and reliable during the heat of combat.
Sculpted out of burnished metal, each gun is lovingly maintained by our team of gunsmiths who are proud of their work, and proud to share these amazing firearms with you.
The comfortable design means you can move around the fields to execute your strategy and easily pick off the enemy one-by-one. Whether you are a one-shot one-kill type of sniper or a shoot-at-everything-that-moves commando, we're sure you'll find that this gun will satisfy your paintball needs.
Delta Force Paintball has made a huge investment into providing all of our customers with state-of-the-art equipment, ensuring your day of paintball action with us is the safest and most comfortable yet.
Contact us today on 1300 785 766 and book your next paintball adventure today.