Legends of Rugby League Nathan Hindmarsh and Bryan Fletcher have battled it out against each other in the Sun Rice Challenge at the Delta Force Paintball centre in Appin, NSW. The two stars of the Fox Sports talk show The Matty Johns Show are pinned against each other each week in a range of obscure and comedic physical challenges. https://www.sydneypaintballing.com.au/hindmarsh-fletcher-epic-paintball-battleFor the fourth round of competition the show converged on Delta Force Paintball Appin, for three unusual challenges.
Fox Sports and The Matty Johns Show partnered with Delta Force Paintball due to our experience within the Australian paintball industry and our standing as Australia's safest and favourite paintball centre. Due to the extreme nature of the filming the safety of the ex-Australian players was paramount, and through our full head protection goggles, rigid body armour, armoured gloves and exemplary health and safety standards we ensured the players and film crew remained safe throughout the entire event.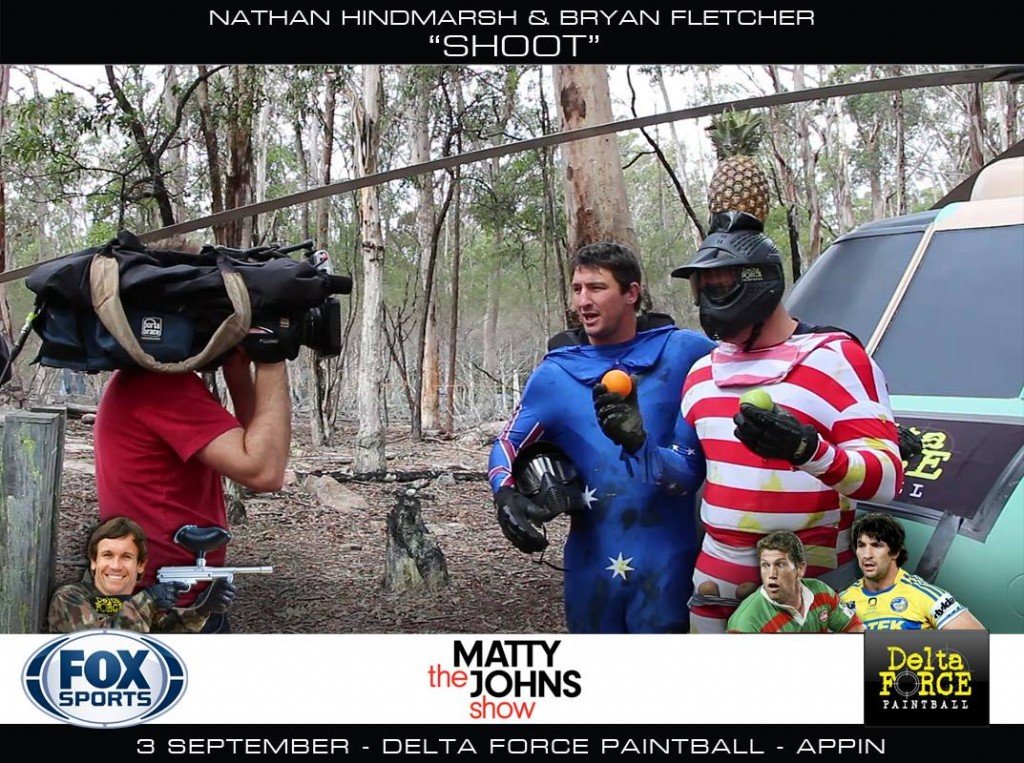 Parramatta Eels club stalwart Nathan Hindmarsh had the competitive advantage going into the battle having previously played at Delta Force Paintball Appin for an Eels teambuilding event a number of years ago. Always renowned as a clever tactician, Hindy sought further advantage by calling through to Delta Force Paintball staff before the event to request exclusive access to one of the DYE Rail upgrade guns that offers an advanced firing capacity of up to 14 balls per second.
Delta Force Paintball is proud to host special events for Fox Sports and other television and celebrity events, and over the years we have hosted countless sporting icons, television programs and celebrities. Our paintball facilities and movie set quality game zones form the perfect backdrop for a range of different special events and our top of the range paintballing equipment means we can guarantee your comfort and safety.
If you are looking for a suitable location for your special event the contact Delta Force Paintball – we have locations nationwide ready to meet your unique needs.