Every week around Australia, players of all ages take on the Delta Force challenge for their shot at paintball heroism. This is no different for our celebrity visitors who frequently visit Delta Force centres not only in Australia but around the world.The most recent celebrity visit occurred on the 22nd of April 2011 when Adam Liaw, winner of the hit 2010 Master Chef show, visited the Delta Force paintball centre in south west Sydney.
After winning the second series of Master Chef, Adam has written his own cookbook (Two Asian Kitchens) and is set to open a restaurant in Sydney.
Adam and his friends enjoyed an action-packed session of paintballing at the best paintball centre in Sydney. Our world-class facilities and professional staff made sure that Adam, along with all customers that came through the door, had a brilliant day.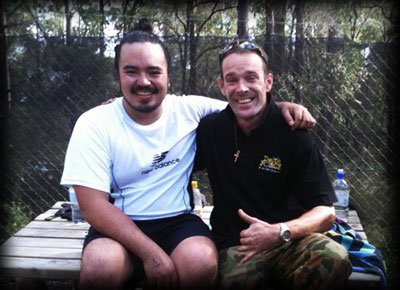 Manager Chris said that Adam's paintballing was not as good as his cooking skills, but he definitely has a good eye for the game. Paintball requires a good strategy, strong communication skills and great teamwork. Adam and his friends definitely had the teamwork and it was great seeing them having a blast out on the fields!
Delta Force Appin, located less than an hour from the CBD, is getting used to celebrity visits after recently entertaining Luke Jacobz – a viewer favourite on Home and Away and the host of various hit shows including Beauty and the Geek and the X Factor.
In our twenty-two years of operation we have hosted paintball games for all manner of celebrities, including the McLaren Formula One team, Elle MacPherson, Wayne Rooney as well as members of the British royal family.
If you would like to play paintball with Delta Force and experience the celebrity treatment that we extend to each and every one of our customers, give our booking office a call on 1300 785 766 and our booking staff will arrange you perfect day of paintball.